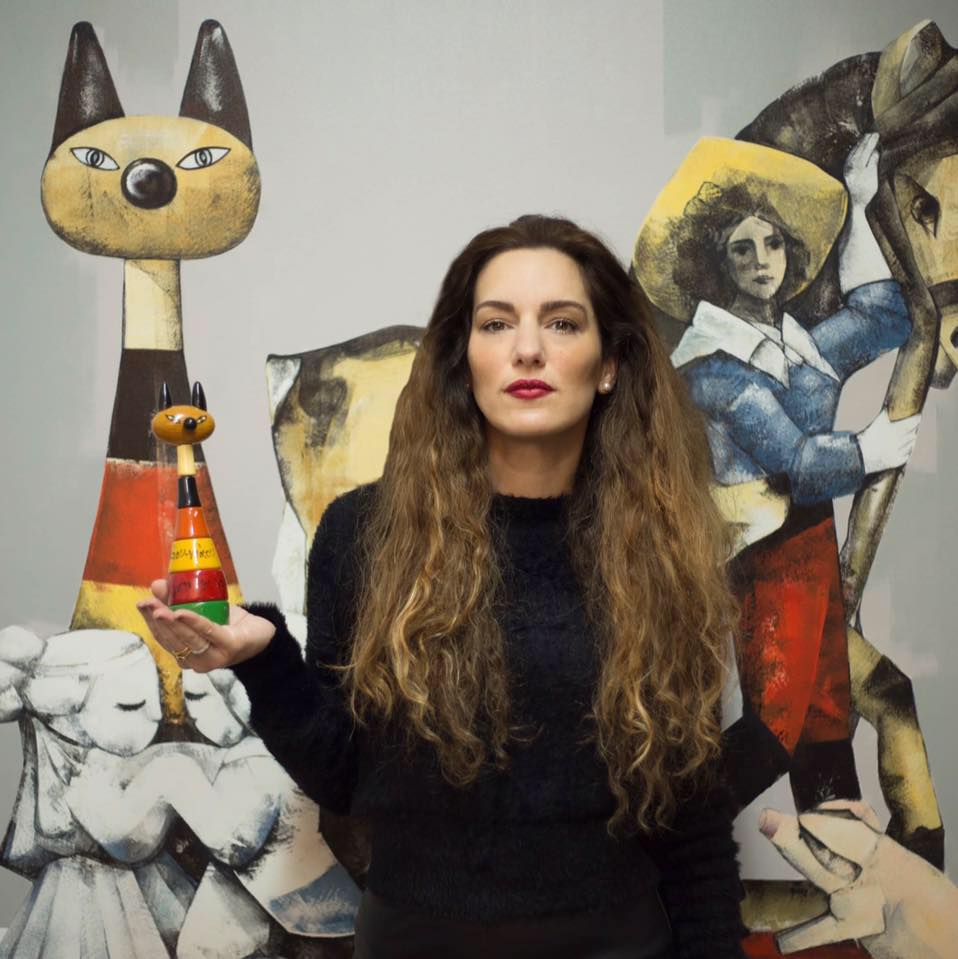 Marianna Katsoulidi was born in Athens in 1979.
In 2005, she graduated from the Athens School of Fine Arts, department of Visual Arts, in the field of Painting. She graduated with honors. Under the tutelage of Triantafyllos Patraskidis, she took courses in Set Design, Engraving and Art Teaching in Secondary Education. She was conferred the qualification Integrated Master in Visual Arts.
In 2008 she graduated from the 2-year postgraduate program of Fine Arts at the Athens School of Fine Arts, with professor Tassos Christakis.
She is a final-year student and a trainee Art Psychotherapist in a 4-year Postgraduate program in Art Psychotherapy at the Art and Psychotherapy Center. The degree is recognized as a certificate of specialization in Art Psychotherapy by the European Association of Psychotherapy (EAP).
From 2005 to 2009 she collaborated with the Adult Education Center, the Cultural Center of the Municipality of Ilioupolis, as well as the Vellios School of Art Lifelong Learning Center as a teacher of drawing, color, design, painting and engraving.
From 2003 to 3007 she engaged in articles of clothing (painting on clothes and accessories). This work was displayed in the magazines VIMADONNA (30-03-2003), COSMOPOLITAN (10-2003), on NET TV in the talk shows "10-2" with Rika Vayanni and Popi Tsapanidou (07-0-2003) "Pandemonium" and on South Greek Television NET "In Faces" with Rebecca Sgourea (15-06-2004).
Since 2006 she has been collaborating with the company Summit Team Building and Training as an art consultant in various creative team projects.
She has held 7 solo exhibitions so far and she has participated in more than 50 group exhibitions. Her works can be found in the Collection of Frissiras Museum, the Moschandreou Collection, the Luciano Benetton Collection and many private collections in Greece and abroad.
Some of her paintings were used as covers for novels and poem collections. She has illustrated the fairy tale "When daisies were either white or yellow" by Gabriella Psilopoulou-Ieronimidou which was published in December 2019 by Aparsis Editions.
Her painting is depictive, symbolic, with emphasis on design. The subject – matter is anthropocentric with elements from toys, myths and fairy tales.
She lives and works in Athens.
EXHIBITIONS
SOLO SHOWS
03/2020 "Beyond the realm of Ego / Not me possessions" Painting – Installation, PERITECHNON Gallery (Postponed due to Covid-19)
10/2015 "Animus – Anima(L)", Painting, Gallery Peritechnon
10/2013 "Innocence – Restart", Painting, Gallery Peritechnon
12/2011 "Fairy-tale colour", Painting, RIFIFI, Curator: Hera Papapostolou
10/2011 "Human Toys", Painting, "Melanithros" Art Space
10/2007 "HAPI END" (Pill End), Painting, Gallery "Mary Alexiou – Athens Art Space"
02/2006 "Tentative Hikes", Painting, "Egokeros" Art Space
GROUP SHOWS
01/2020 "La politica della Grecia", Art Prisma Gallery, Curator: Luisa Karapidaki
01/2020 "At the Studio", Hellenic American Union, Curators: Hera Papapostolou – Manos Spanos
05/2019 "The Tower of Babel", Platforms Project 2019, Athens School of Fine Arts, we 33 by Artia gallery
06/2018 "Linear Holy Spirit", Bouzianis Museum
06/2018 "12 Art – stations/statements, Peritecnon Gallery
05/2018 "We 33", Platforms project 2018, Athens school of Fine Arts, Artia Gallery
05/2018 "Yellow me", The Box
03/2018 "Less is More", painting exhibition, Evripides Art Gallery
10/2017 "3d Award of European Painting", painting exhibition, Frissiras Museum
09/2017 "Group Painting Show", Evripides Art Gallery
08/2017 "Human views", Art Gallery I&E Vati, Syros, Curator : George Aldouvas
06/2017 "P ART ONE", Gallery Peritechnon
01/2017 "My imaginary homeland", THE LOFT, Curator: Hera Papapostolou
10/2016 "Earth, Water, Wind, Fire – 4 Elements of Nature",Heraklion Visual Arts Museum, Crete, Curator: Maria Chaniotaki
06/2016 "The young and the restless", Evripides Art Gallery, Curator: Louisa Karapidaki
05/2016 ART ATHINA, International Contemporary Art Fair of Athens, Gallery Peritechnon
12/2015 "Contemporary art show – literature illustrations", Heraklion Visual Arts Museum, Crete
12/2015 "Elles" , painting exhibition, Frissiras Museum Collection
11/2015 "Three generations of Greek Painting – Engraving", Moschandreou Collection,Municipal Art Gallery of Athens
09/2015 "Memory and Dream", 6th Beijing International Art Biennale, Beijing, China
08/2015 "Sea of Kythera", Follow Your Art Gallery, Kapsali, Kythera, Curator: Hera Papapostolou
06/2015 "Prague Quadrennial of Performance Design and Space" Team LSA – Project "Ornithes", Aristophanes,
Greek Center of International Theatre Institute
03/2015 "Greek Contemporary Art 1", Melenia Art Gallery, Bucharest
11/2014 "Women painting Women", THE LOFT, Curator :Hera Papapostolou
10/2014 "Resistance Now" Contemporary visual creation show VISUAL ARTS AND RESISTANCE,
Pan-Hellenic show of the members of the Chamber of Fine Arts of Greece, Municipal Art Gallery of Athens
07/2014 "Art n' Roll", Gallery Peritechnon
05/2014 ART – ATHINA, International Contemporary Art Fair of Athens, Gallery Peritechnon
04/2014 04/2014 "ART is DLife", e-gallery DL Fine Arts Gallery, Art Showroom Porta , Restaurant kuzina, Curator: Dimitra Limniati
02/2014 "Enchantment – Disenchantment" Kennedy Gallery, Hellenic-American Union, Curator: Hera Papapostolou
05/2013 "ART vs CRISIS", e-gallery DL Fine Arts Gallery, Art Showroom Porta, Restaurant kuzina, Curator: Dimitra Limniati
03/2013 "Bo Project", e-gallery DL Fine Arts Gallery, Botrini's Restaurant, Curator: Dimitra Limniati
09/2012 "ART IS HARD" ATHENS contemporary art and music festival, Old Peloponnese railway station
03/2012 Colour in "Motherland of times" 24 painters – one encounter, M. Kakogiannis foundation
05/2011 "METart moves", Nikos Kesanlis exhibition space, Athens School of Fine Arts
07/2010 "Oasis en Aoasei" (Oases in the Desert), Skironio Museum Polychronopoulos, Megara
07/2010 "Tide of Contemporary Painting in Chalkida", Kokkino Spiti, Chalkida
12/2009 "The human form in Art", Panhellenic show by the Chamber of Fine Arts, Technopolis, Gazi
06/2009 "Street Art Festival", Ilioupoli, June 2009
05/2009 "Dreamlike Conditions", Gallery M-ART Space
04/2009 "Shores and Views", Kalamata Municipality Cultural Centre
02/2009 "Love is Everything",Gallery "Mary Alexiou – Athens Art Space"
06/2008 Graduates of the Master in Fine Arts of the Visual Arts Programme of the Athens School of Fine Arts (showcasing masters projects), "Nikos Kesanlis" or "Ergostasio" exhibition space
06/2008 "Something is Going On…", Gallery "Mary Alexiou – Athens Art Space"
01/2008 "Image, Space, Action", Panhellenic show by the Chamber of Fine Arts of Greece, Technopolis, Gazi
12/2007 "The red of fire", Painting-Sculpture-Engraving-Installations-Jewelry, "Egokeros" Art Space, Christmas in colour 2007
11/2007 "Tribute to Cinema",Gallery "Mary Alexiou – Athens Art Space"
03/2007 "Poetry – Works inspired by the woman and poesy", Show by 16 women artists, "Calliope" Art Space, Chios
06/2006 Maria Chaniotaki Scenography Workshop 2006 Graduates, Monochoro Art Space
05/2006 2004-2005 Graduates of the Athens School of Fine Arts, Nikos Kesanlis exhibition space
12/2005 "The red of joy",Christmas in colour 2005 ,"Egokeros" Art Space
07/2005 "Ermoupolia 2005", Ermoupolis Municipality Cultural Centre, Siros
01/2005 Athens School of Fine Arts Graduates Union, Plaka, Athens
09/2004 "So, tell me about your toys"with the friendly participation of 77 Visual Artists, "Gianis Markantonakis" Visual Arts Workshop of the Chania Municipality, Crete
07/2004 Pythagorio Municipality Cultural Centre, Samos
05/2004 "The Olive in Modern Greek Engraving", Αwarded praise at the Panhellenic Engraving Competition by the Takis Katsoulidis Engraving Museum
01/2004 Kalamata Municipality Cultural Centre
08/2003 Pythagorio Municipality Cultural Centre, Samos
05/2002 Athens School of Fine Arts 6th Painting Workshop, Argos Municipality Cultural Centre